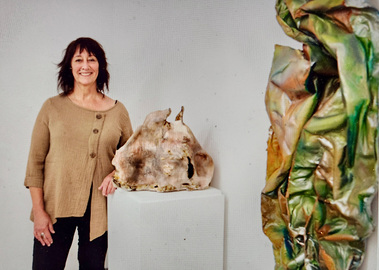 Bio
Vallene earned an MFA in Spatial Arts, a BFA in Painting, an Art K-12 Teaching Certificate, and, from UCDavis, a Professional Certification in Conflict Resolution and Business Communication. She resides in the Northern California Sierra Foothills.
In addition to a longtime career as a university art faculty member, Vallene is experienced in public school administration, and private industry management of special project creation and development, including the Prism Gallery and the textbook Arts Alive! written by Dr. Shellie Hipsky
Throughout the past three decades, Vallene has exhibited and lectured extensively, and her work can be found in corporate offices in the Eastern region of the United States and a private collection in France. She continues to create and exhibit artwork, as well as jury art exhibitions, including the annual Modern Masters Exhibition of the Sacramento Bar Association, the 2018 Sacramento Region Arts & Business Council Awards, and the annual California State Fair art.
Vallene is the co-author and former YMS Program Director for California Lawyers for the Arts, a current mediator with Consortium for Children, and serves as a mediator/trainer in the Sacramento area.